NARMA releases statement regarding US players to WRC; Adams replaces Wu as Salt Lake qualifier *UPDATED*
Update: 4PM CST
Following the statement released on Friday regarding criteria used to select US applicants for the five seats in the American quota, the World Riichi Championship has received confirmation from all players.
The players invited to represent the U.S. in Vienna are:
Claire Pozniak
Zach Francks
Steve Augustin
Austin Tai
Michael McLeod
Congratulations, players! Good fortune to everyone playing in Vienna this summer!
WRC Statement Released Through NARMA
Last Friday, the World Riichi Championship, through the North American Riichi Mahjong Association, published a statement that it has selected the players that will be invited to fill the five WRC seats allocated to the United States. The statement addresses the decision making process used in absence of a national player ranking system.
The World Riichi Championship has selected the five players that will be invited to represent the United States at WRC 2020: Vienna.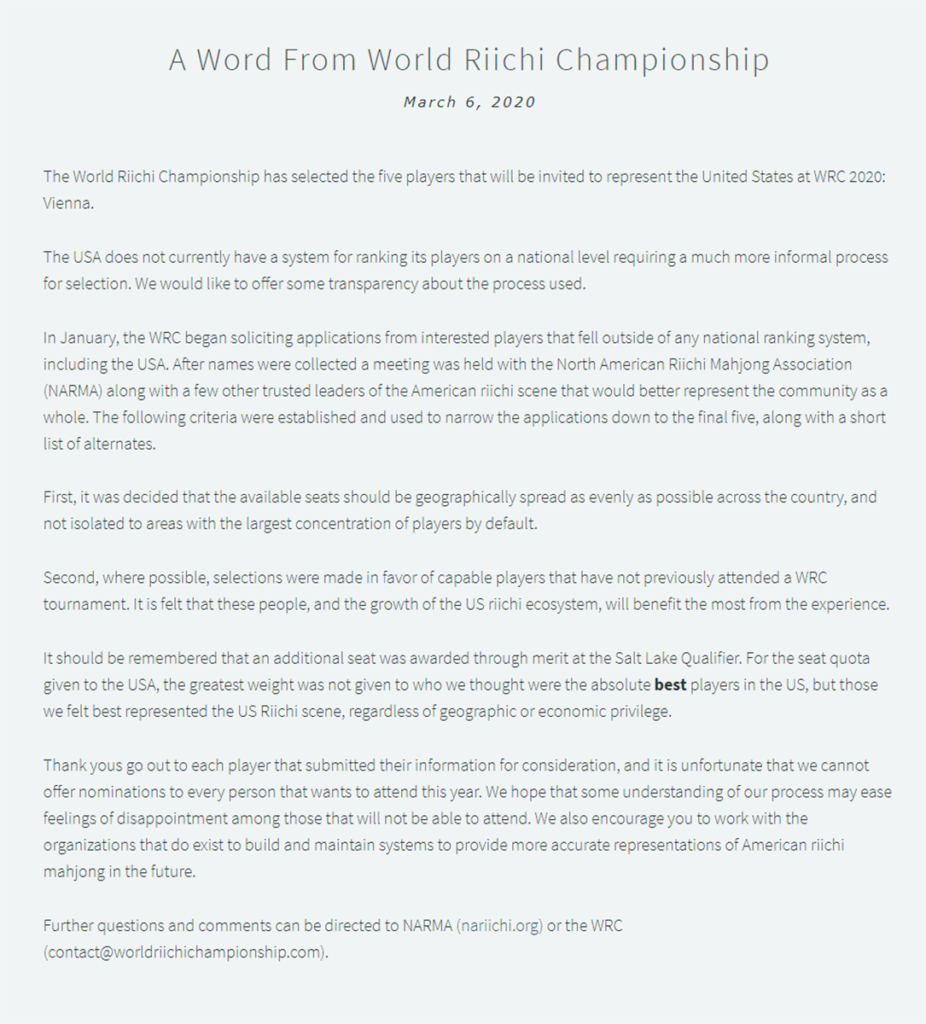 As of the publishing of this article, the actual list of players hasn't been released. When I reached out to the WRC for comment they stated, "WRC has not received confirmation from all selected US players and will wait for those confirmations before publishing a full list."
Salt Lake Qualifier Winner Steps Back From WRC
On Saturday, WRC also released a statement on their Facebook page announcing that Salt Lake Qualifier winner Haolun Wu has declined his invitation citing work commitments. Ryan Adams of Panhandle Mahjong in Florida has replaced him as the runner-up.
Congratulations, Ryan!