RR Cooks! Inari Soba
RR Cooks! is a series featuring recipes that lurk out there in the kitchens of our readers around the world, and tells a little bit about why each recipe is important or special to the person that has shared it with me. Today's recipe for Inari Soba comes from our friend Tina Koshimoto!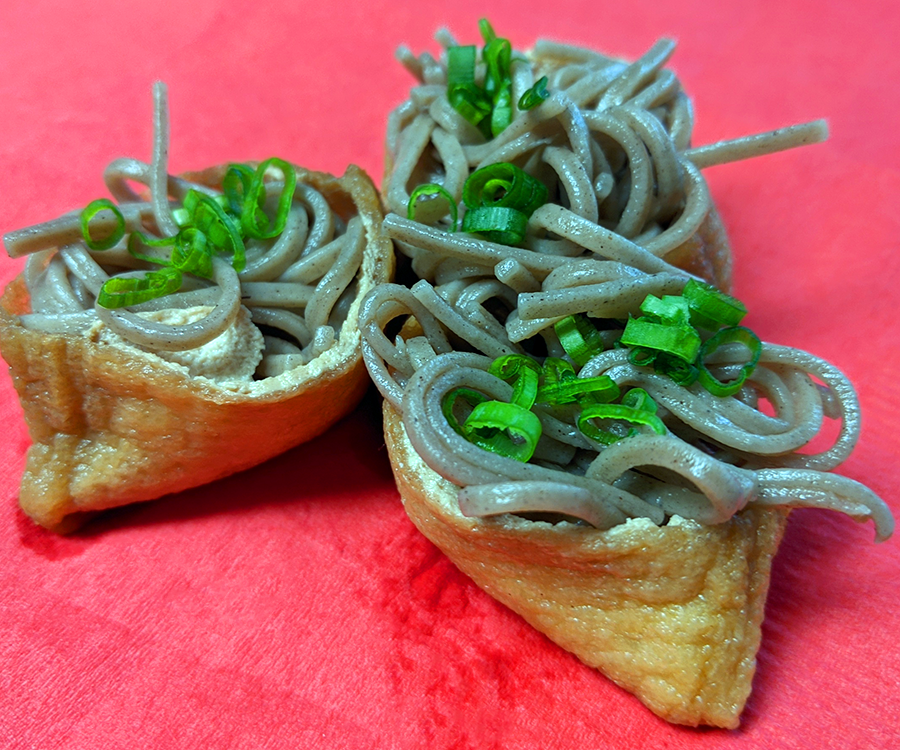 I didn't really know how to cook since I was raised by busy parents who didn't have time to prepare nice homemade meals. In my early 20s back when I was still in California, I visited my friend's place and when I took up the offer to stay for dinner, I was in shock because the meal was so delicious. Turns out that said friend's mother studied culinary in Japan, and I was fortunate to have the opportunity to receive cooking lessons from her for a period of time. She gradually became a mother-figure and we still keep in touch—I actually visited her in Japan this past September!

This is one of the first recipes I learned. It is a nice, light, fresh dish that give you a sense of the Japanese taste. This dish is also memorable because I would often make these together with my roommate at the time, still a close friend of mine, when we would have mini feasts on weekend nights.

Tina Koshimoto
Tina's Inari Soba
Cook's Note: The recipe I received is for 48 pouches. Good for a party tray, but it is a lot. Adjust quantities as needed.
Ingredients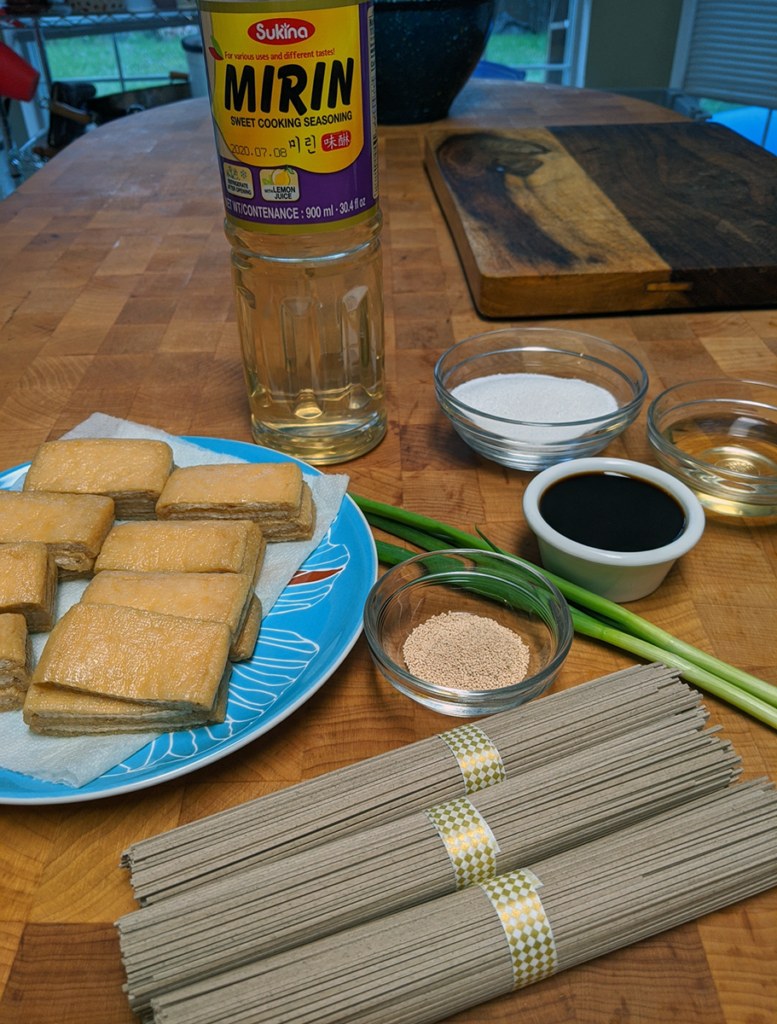 48 Inari Age: Fried tofu pouches. Usually found refrigerated or frozen. Whole, they are about the size of a playing card. You can find them pre-cut (in half) as well.
3 bundles Soba Noodles
2 cup Dashi: A little over a teaspoon to 2 cups water if you are making from powder.
5 Tbsp Sugar
3 Tbsp Mirin
3 Tbsp Sake: This doesn't have to be the good stuff.
4 Tbsp Soy Sauce
Minced Green Onion: For garnish
Directions
Rinse the inari age in hot water to remove any oil that it may be stored in. If it has not been pre-cut, cut each one in half. It should resemble a little pouch that you will open up later.
Bring the dashi to a low boil and then add the sugar, mirin, sake, and soy sauce. Add the inari age. When it comes back to a simmer, turn the heat down to keep it there and leave the inari age to soak up the broth.
In a separate pot, boil the soba noodles according to directions. Usually around 6 minutes in boiling water with an occasional stir. Drain when done.
While those cook you can mince your green onion.
Once the inari age has darkened just a little from the broth, remove them from the pot. They are little flavor sponges, so they will be wet. Save the broth.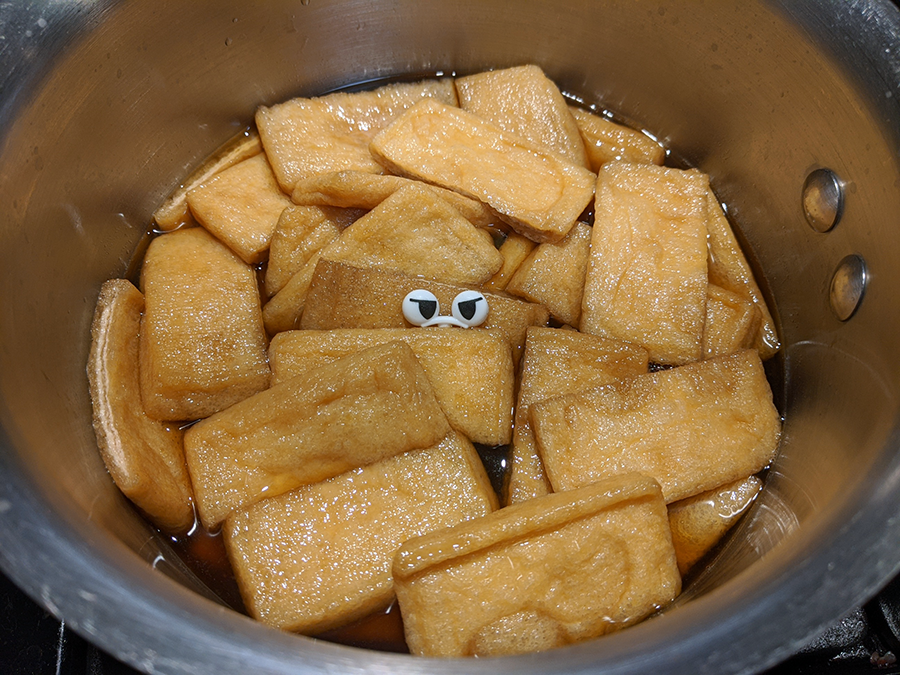 Carefully insert the tip of a knife into the cut side of each one to open up a pocket, being careful not to tear the skin.
Fill each pocket with a portion of soba. It helps to wrap the noodles around your finger and guide it in.
Garnish with green onion. Just before serving, you can also spoon a little broth into each one for more flavor.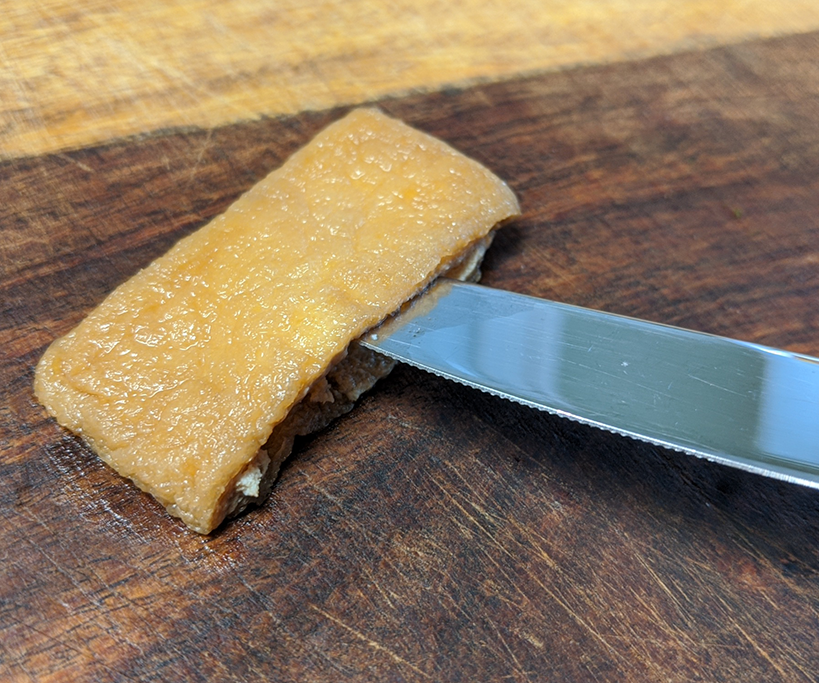 Donnie's Notes
I made these for a small gathering of friends, and one comment that came was something like, "can we just keep throwing all of these in my mouth?" They are delicious. Being little flavor sponges, the inari age carries the sweet umami flavor from the stock, and stays moist. The soba has a mellow flavor that is punctuated by the acid from the green onion, which also brings a crunchy texture.
Tina actually sent two recipes, the other for some amazing looking spring rolls. However I haven't been able to find all the proper ingredients, so I have had to cut it for now. Some of the foods are rather specific but might survive with substitutions, so I will need to do a little research before sharing that one.
While gatherings aren't a great idea in the current national climate, these still make wonderful one-bite snacks! Share your comments and let us know if you make these delicious Inari Soba!
Submit to RR Cooks!
I would love to receive more recipes from our readers to try out and feature on RR Cooks! There a few guidelines below.
Fresh ingredients are preferred. I'd rather not do stuff-out-of-a-can recipes. No judgement on anyone that cooks this way. It is just not what I'm going for in RR Cooks! Sometimes a canned ingredient is necessary, and that is O.K.
Ingredients should be commonly available. I plan to prepare the recipes in my own kitchen, so it can't have ingredients that can only be obtained at that one dairy by your great-grandmother's village in rural France. If it is something I can easily order online, that is O.K.
It would really showcase our diversity if the recipe held some sort of personal note about you or when you come from; barring that, I'd love to hear about the kind of dish you really get excited about!
If you have a recipe that is special to you and would like to share it with us, use our contact page to send me a message with your recipe. Don't forget to tell me why you chose it!