RR Cooks! One Pot Pork & Pumpkin Stew
Welcome to RR Cooks! Mahjong players come from a vast range of backgrounds with a variety of skills. But one thing we can all agree upon is good food! Everyone eats, and we all approach food in our own way. Some don't cook at all. Some prepare food simply while others prepare extravagant dishes. But all of us want it to taste good!
Personally, I love to cook and try new recipes from all over. I have started the RR Cooks! series to not only feature the recipes that lurk out there in the kitchens of our community around the world, but also to tell a little bit about why each recipe is important or special to the person that has shared it with me.
I cook each recipe in my own home kitchen. Occasionally I will insert my own notes on the recipe.
If RR Cooks! inspires you to share one of your own special dishes, find out how to submit to us at the bottom of this post!
Lena's One Pot Pork & Pumpkin Stew
This first recipe comes from Lena Weinguny of Vienna, Austria. Many of you will remember Lena as the strongest European contender of WRC 2017. She is currently the highest raking Riichi player in Austria, and ranks 29th on the EMA's individual player ranking.
This Pork & Pumpkin Stew is one of Lena's own creations and is one of her favorite dishes to make in autumn.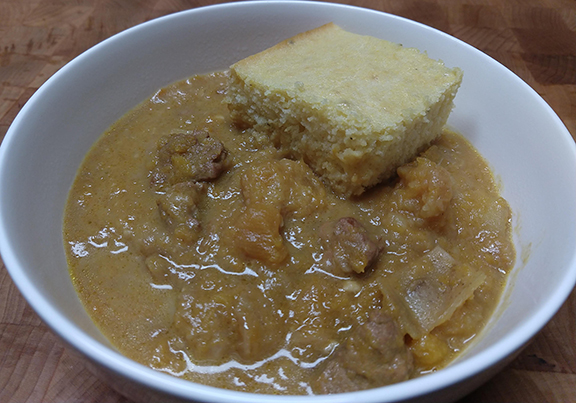 Ingredients
500g (1lb) pork loin or other lean pork
1 large yellow onion
1kg (2lb) pumpkin (Lena prefers Hokkaido, but you can use any other kind too.)
600g (1.25 – 1.5 lb) potatoes
400ml (1.5 cup) veggie stock
250g sour cream
Salt and pepper
Oil
Cut the pork into pieces of about 2cm.
Chop the onion as large or small as you like. (I like mine small!)
Peel the pumpkin (not necessary with Hokkaido) and the potatoes and cut into pieces of about 2cm.
Prepare a large pot with some oil (about 2 tbsp) over medium-high heat. Sautee the onions for a few minutes, then add the pork. Season with salt and pepper. Sautee until pork is slightly cooked on all sides.
Add the pumpkin and the potatoes and sautee for a few more minutes. Then add the veggie stock.
Cover the pot with a lid. Bring to a boil, then reduce heat to low and let simmer for about 20 minutes until the pumpkin and the potatoes are cooked.
Add the sour cream (I didn't have sour cream on hand so I just used some heavy cream).
Season with more salt and pepper if needed before serving.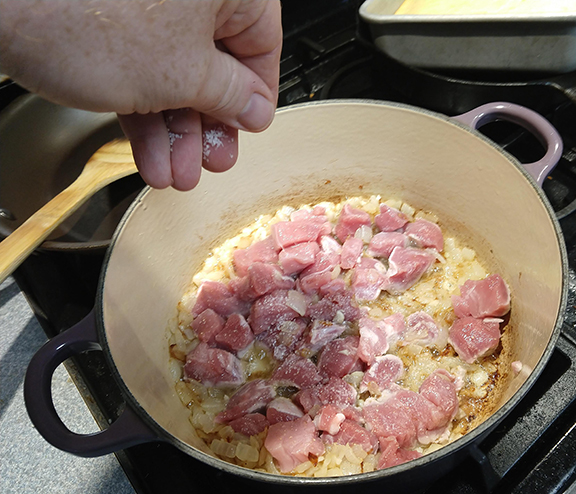 Donnie's Notes
This stew was delicious and my family loved it! It is a hearty dish that is great to make RIGHT NOW in the cooler fall temperatures. Hopefully whole pumpkin is still available near you.
Lena mentioned that she likes to use Hokkaido pumpkin (red kuri squash); it is thin skinned, flavorful, and doesn't require peeling. That particular variety isn't common in my area so I have used a small sugar pumpkin. It doesn't have as much flavor, but it is sweet and plentiful. Other varieties of squash should work just as well; I'd probably stay away from spaghetti squash though as the stringy texture will be wrong for this stew.
I also used unpeeled golden/yellow potatoes. They hold their shape quite well when cooked and the thin skin doesn't need peeling either, just a good scrub.
Lena's recipe is very simply seasoned and stands alone as is, but this stew can also serve as an excellent host to a variety of spices. I added cumin to boost the flavor profile of the blander pumpkin I had available. Next time I would like to try spiking it with some harissa to deepen the flavor and add a bit of heat!
You can easily make this a vegetarian dish by omitting the pork.
Submit to RR Cooks!
I would love to receive more recipes from our readers to try out and feature on RR Cooks! There a few guidelines below.
Fresh ingredients are preferred. I'd rather not do stuff-out-of-a-can recipes. No judgement on anyone that cooks this way. It is just not what I'm going for in RR Cooks! Sometimes a canned ingredient is necessary, and that is O.K.
Ingredients should be commonly available. I plan to prepare the recipes in my own kitchen, so it can't have ingredients that can only be obtained at that one dairy by your great-grandmother's village in rural France. If it is something I can easily order online, that is O.K.
It would really showcase our diversity if the recipe held some sort of personal note about you or when you come from; barring that, I'd love to hear about the kind of dish you really get excited about!
If you have a recipe that is special to you and would like to share it with us, use our contact page to send me a message with your recipe. Don't forget to tell me why you chose it!