WRC Updates Site With Known Players
If you're keeping tabs on WRC's twitter feed (and you should – @WorldRiichi) you will no doubt have seen that their website has recently updated to include the known Japan pros and special attendees that will be playing in Vienna this summer!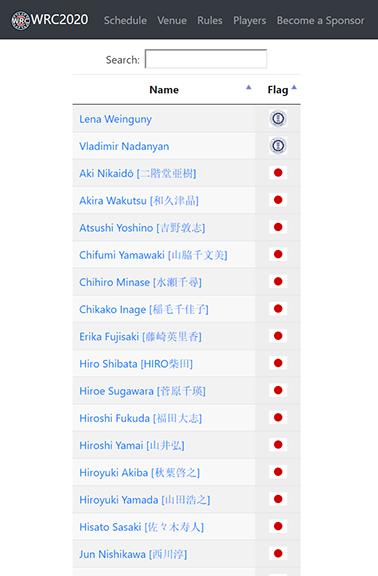 Many of the Japanese professional players will be making this their 2nd, and for some their 3rd, showing at the World Riichi Championship. A couple of European players qualified outside of EMA ranking such as Lena Weinguny and Vladamir Nadanyan.
Who are you most excited to see play in WRC 2020? Leave us a comment!
Lower on the roster is individual seats given by the WRC for various purposes. This includes winners of the previous qualifier tournaments and special guests.
This list represents the current KNOWN players scheduled for the event, and is not a full roster. The EMA won't run its full quota-by-ranking until later this year, and other areas outside of national org ranking do not yet have a list of approved players.
However, WRC has now set up a form for players within any region not directly represented by a national organization or that regions national organization is not handling WRC quotas. The stated purpose is for "individual players to register their interest to compete at the 2020 World Riichi Championship in Vienna." You can find it here.