Challenging the Mahjong Saikyousen
Battle for the title of 'Strongest Player'
The Saikyousen, largest Mahjong tournament in Japan, has a history spanning over 25 years. It boasts the largest number of participants of any tournament in Japan; spanning over the course of year across locations around Japan, it's no wonder why. In 2017 over 30,000 players took a stab at the title of the Strongest Player.
Saikyousen is an oddity among major titles in Japan, namely because all games in the main tournament are a single hanchan. But of course, to get to that stage you must first qualify for spot in the main tournament, accounting for a mere 16 people from the thousands of participants.
Each seat is selected from a variety of professional events, past winners, and of course a national amateur tournament.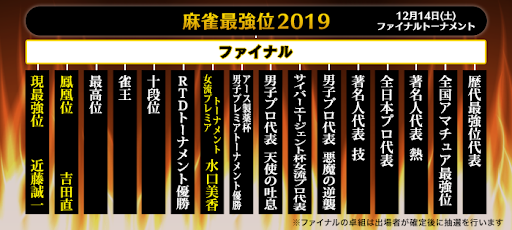 The Current Saikyoui
Current Hououi (JPML's League Championship)
Current Saikoui (Saikouisen Pro Leagues highest title)
Current Janou (NPM Top League Championship)
Current 10dan title holder (JPML major title)
RTD Tournament Winner
Premium Women's Tournament Winner
Premium Male Tournament Winner
Male Pro Representative – Angel's Sigh
Cyber Agent Cup Female Pro Representative
Male Pro Representative – Devil's Counterattack
Master Player Representative
All Japan Pro Representative
Newcomer Pro Representative
Past Saikyoui Representative
National Amateur Saikyoui
If you haven't guessed already, amateur players can only fight for one of these spots, the title of the Strongest Amateur Mahjong Player.
So, how does one become the Strongest Amateur Player? Easy—by beating everyone else.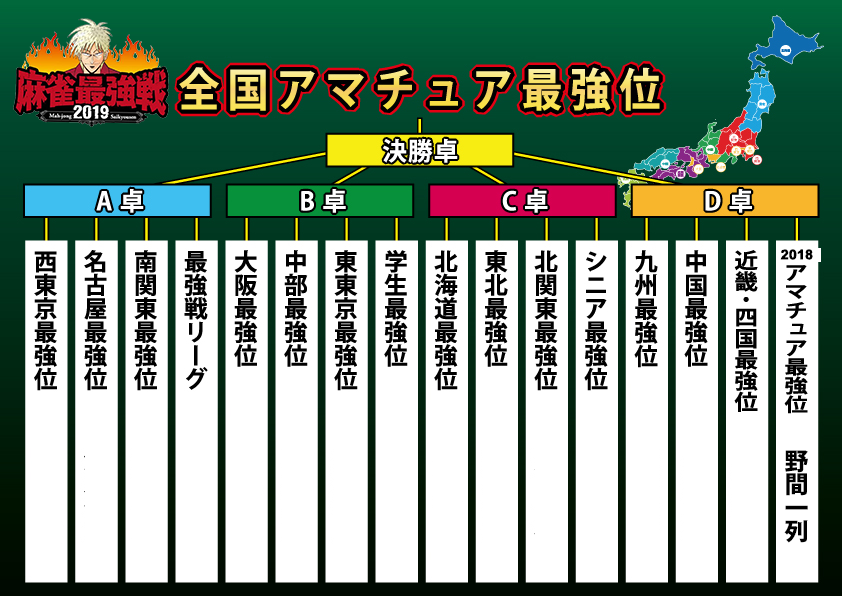 Each of 12 qualifying regions puts forth one player chosen to represent the strongest amateur they have to offer. So how does one become the representative for one of the various regions in Japan? Win the tournament for the Strongest Player of that location! Each region holds a tournament at the end of the year to choose their representative. But first you have to claim a spot in THAT tournament, and how else would you do that except through another event!
Throughout the year a number of qualifiers are held across Japan in different stores, or through online events. For each live qualifier the top 10% will move on to the corresponding regional tournament. Online events are held on Tenhou as a tournament, but only a single player will qualify for each online regional tournament out of hundreds that participate.
The keen of eye will have noted that this only accounts for twelve of the sixteen spot illustrated in the image above. The remaining four spots are taken by the Current Amateur Saikyoui, Senior Saikyoui, Student Saikyoui, and the Saikyoui League Winner.
The silver lining is that players Are allowed to qualify for multiple regional tournaments, except they can only become the representative for a single region.
It is a long and strenuous path for pros and amateurs alike, all for one person to stand above the rest