Chip Mahjong Revisited
By Taylor H. & Philly Riichi Mahjong Club
The Philly Riichi Mahjong Club has run several chip mahjong events since the last article was published. In that time, we've learned a lot about chip mahjong fits into our new-player acquisition pipeline. We've revised our teaching methods, and introduced several chip mahjong players to full riichi. Let's talk about what we've learned!
Check out our previous article on Chip Mahjong for some background!
Chip Mahjong Changes
The biggest change we've introduced is including "hand with no calls" (damaten, though we call it "riichi" on the sheet) and "fully concealed hand" (menzen tsumo) to the list of chip mahjong yaku. Teaching the importance of remaining closed was a bit of a pain point, and this puts it in front of the players right away. Our teaching mantra has been "Before you call, look at the sheet. What are you making?"
Our next change is including the "optional" rule of having a 1-chip minimum requirement to win. We pretty quickly introduce this rule once players get the hang of forming sets. We've learned quite a bit about our audience for these teaching nights (more on that below), and most of them can handle a 1-chip minimum more quickly than we initially thought.
Get the updated Chip Mahjong handout at Philly Mahjong's website.
Audience Insights
We've noticed that our pool of potential players tend to fit into three categories:
Players who have never played anything like mahjong at all,
Players who haven't played mahjong, but have analogous experience with other meld-collection games like gin or rummikub,
Players who have played a different style of mahjong.
Players from category 1 need the most hand-holding. They're the most often to forget they can't call "chi" from any player at the table, for example. With this group, we're the least strict about a 1-chip minimum. They've got to crawl before they can walk, so we don't introduce a 1-chip minimum until they've played several games of chip.
Players with experience in category 2 grab onto the basic mechanics of pon, chi, and yaku pretty quickly. With this group, we introduce the 1-chip minimum almost immediately. These players quickly move past "can I call?" decisions, and hit their hang-ups at "should I call?" decisions. Watching them work out what yaku they'll make without help from us is delightful.
Players in category 3 need minimal assistance. American-style mahjong has no analog to "chi", so they need some mechanics assistance to understand the rules. Once they get there, though, they're fully autonomous almost immediately. The most important thing for these players to learn is the value of remaining closed, so we introduce the 1-chip minimum right away.
Transitioning To Full Game
Now that we're teaching a 1-chip minimum in the introductory game, the transition to full riichi is much smoother. The basic yaku are quite familiar to them by this point, so the excellent WRC yaku reference is not so intimidating. Dora also come quite naturally, though people often stumble over dora not satisfying the 1-han minimum. Kandora and uradora are tricky, but most players are so excited to play the uradora lottery that they can stomach the additional complexity.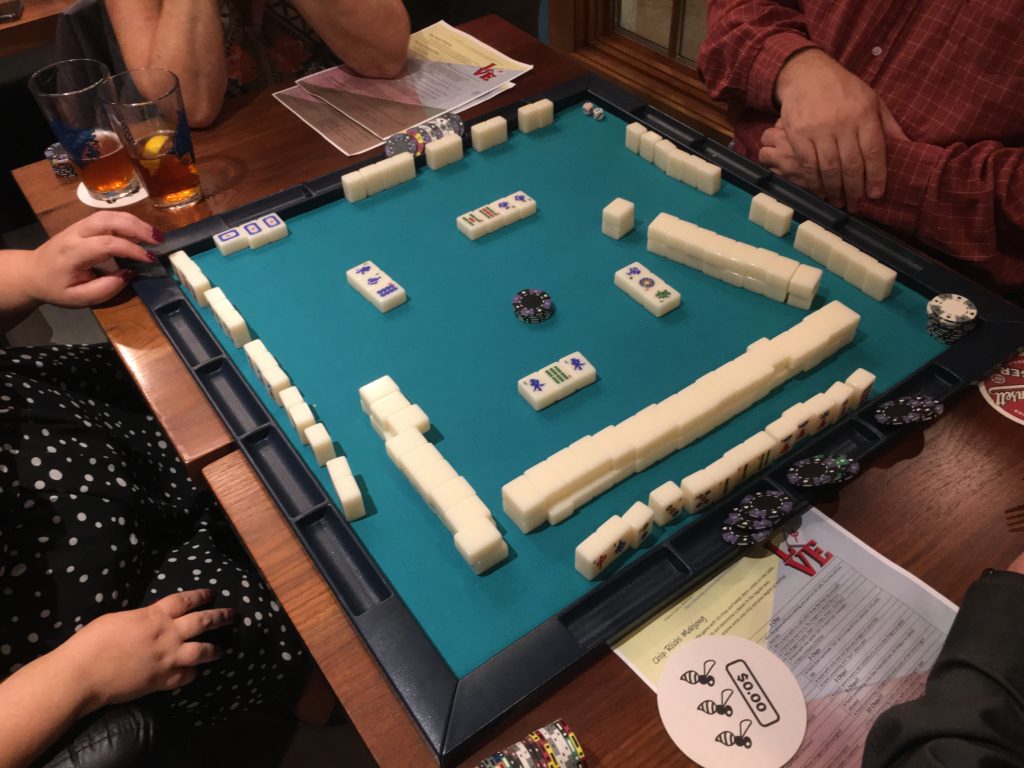 We've transitioned several players over to the full game by now, and we're delighted with the results. Chip mahjong has proven to be an accessible, fast, and friendly way to bring new players into the club. We encourage you to try it at your next teaching night!