Twitch List 2019
Some really cool riichi-related Twitch streams have been popping up over the last year and if you're not following them, you might want to start. There are some high level players adding games, information, and strategies to the riichi conversation. I've collected a short list of streams worth looking into and how to find them on Twitch. Hit Follow so you don't miss out!
David Bresnick has been streaming for the USPML for a couple of years. There is a recurring stream happening most Saturday afternoons at 1 PM (Eastern/GMT-5) co-hosted by Gemma Sakamoto. Features of the stream generally involve the pair bantering over WWYD scenarios, hand replays, news, events, and regular interaction with the chat room. Gemma also offers segments giving professional advice on reading discards and hands.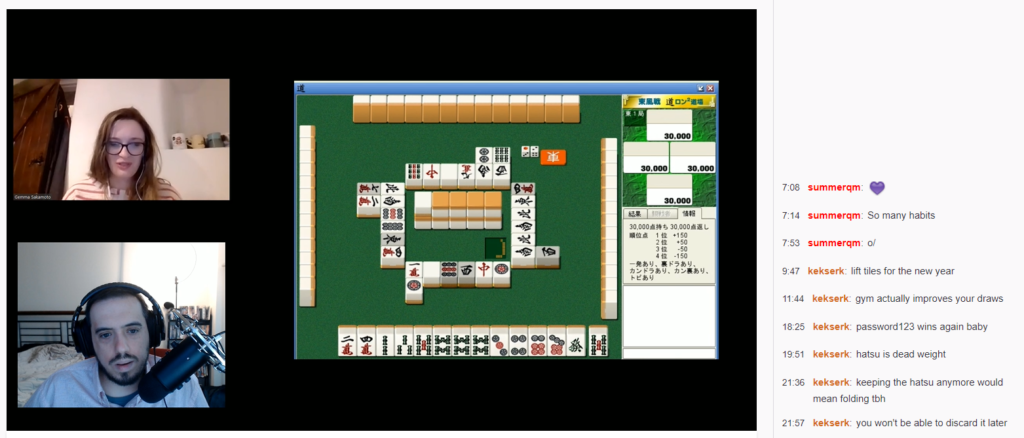 You can follow this stream at www.twitch.tv/uspml, and there is often a notice appearing on Twitter (@USPML) about an hour before it goes live.
Since the January update of Final Fantasy XIV introducing Doman Mahjong (an in-game version of riichi) USPML has hosted a couple of streams featuring sessions at the Golden Saucer. Incidentally, Gemma's own backlog of videos is steadily filling up with Doman sessions, so if you'd like to follow along, she is 'mahjonggem' on Twitch.
---
User xDasukex streams online games from Tenhou.net as well as replay commentary. The Phoenix lobby (7 dan and higher) features the highest rank players on Tenhou, so if you want a chance to observe some pro-level matches, tune in when the stream is live. (So far xDasukex isn't saving videos, so live is the only way to catch it.) Note that, as explained in the profile comments, the stream is delayed 5 minutes as required by Tenhou for the Phoenix lobby. You won't get any chat-room interaction during the game; however, xDasukex will usually review the session with commentary for his benefit and ours!
You can follow this stream at www.twitch.tv/xdasukex and on Twitter (xDasukex).
---
Another Tenhou stream comes from 6 dan player Rosti of Mahjong Guide who is currently playing in the Tokujo lobby not subject to the live delay required by the Phoenix lobby. The stream features Rosti's live play accompanied by a running commentary of observations and choices, interaction with the Twitch chat, and his eclectic mix of music.
You can follow this stream at www.twitch.tv/rostilfc.
---
So far there is only one (7 hour!) video and a handful of highlight clips cropped from the stream saved here, but keep an eye out for what this group does. Seihoku is a club in St. Petersburg, Russia that has been streaming since at least October 2017. If you check out their back-catalog of recordings published to YouTube you can immediately see how their presentation has changed from single-corner views of a hanchan to a split-screen view about a year ago, and evolving into a top-down + hand view presentation complete with game metrics, live commentary, and twitch chat!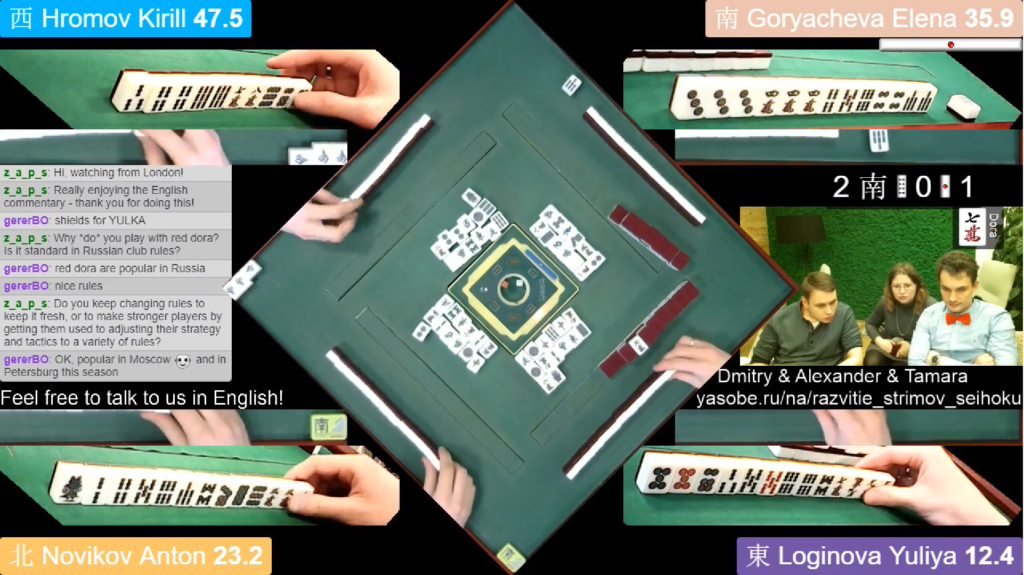 Don't understand Russian? No problem. In their latest video, Seihoku Riichi runs commentary in English. If you can shoulder the run-time (streams routinely run hours in length) this is a great stream to watch a collection of some of the strongest players in Europe.
You can follow this stream at www.twitch.tv/seihoku_riichi or watch past videos on YouTube.
---
This is by no means an exhaustive list. If you are following other riichi streams, share them in the comments!