WRC's Super Weekend
Last weekend, at opposite ends of the world, two fierce qualifiers were fought for a wild card seat to the World Riichi Championship 2020.
G-Research hosted a central London qualifier, and the Austrialian Riichi Mahjong Association hosted the Melbourne qualifier. I could only attend one but I watched the Australian offering with great interest.
London
The event I attended as ref was the G-Research qualifier. There were 48 players playing 8 hanchan in a pure round robin format, highest point wins the seat.
It was close right up until the end. A misstep and a fourth place could have easily lost the top spot. But Anastasia Veremenko of the Ukraine played strong the entire way through to be the clear winner, and also being our first female to win a seat outright (Hong Li also won a seat but as runner up in the Paris event).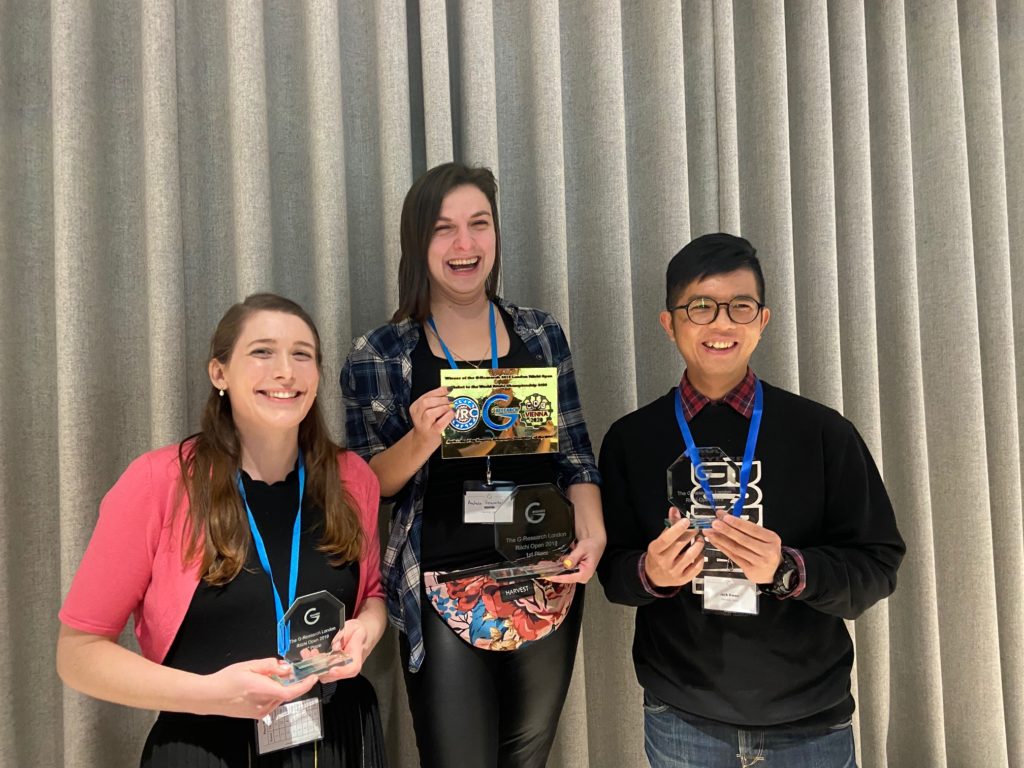 In a tournament well represented from across the glove, the podium had no Brits despite playing on their home turf. Claire Pozniak of the US took third place, and Jack Kwan of Hong Kong took second.
In a first for MERS events, this was generously sponsored by a company. G-Research were the hosts and sponsors for the London WRC qualifier. They are a rare sponsor in that they had nothing to sell to us. And I mean zilch. They provided an excellent space in London, fabulous food, cake, and even a couple of beers at the end. WRC and UKMA are extremely lucky to be able to count on their support. So what IS in it for G-Research…? We all know that the technically and mathematically inclined are attracted to our great game, and those are exactly the people they need to hire. Essentially, what they have done is built a natural workplace for the mahjong lover. Not only purchasing sets for a lunchtime club, but their latest acquisition has been a mahjong table all the way from Japan! You can find out more about their jobs here, just make sure you mention mahjong and me if you apply. Or if you want to chat more about the company and what sort of career they offer, email me (contact@worldriichichampionship.com) and I'll put you in touch with the right person. If it's not for you right now, tell your friend who is exhausted at their current job!
Melbourne
Across the other side of the globe, the Australians were holding their own event! An inaugural tournament for the Australian Riichi Mahjong Association and another worthy venue to distribute a wildcard seat.
The Australian riichi mahjong community has been coming along in leaps and bounds, starting off (what we hope will be) their tradition of quality events running. Their branding was particularly on point.
Even a custom mahjong tile set up for grabs with the WRC wildcard seat.
The winner was Kevin Dinh who will take another WRC 2020 seat in Vienna.
Pulling off an event as a first-time organizer and a new-ish group is never an easy thing. The Australians have raised the bar when it comes to professionalism that WRC is going to have to match (and beat!) now.
Players should definitely be marking their calendars for the next Australian event. It's a long flight but it's sure to be worth it.
Qualifiers
These two events were a great finish to WRC's attempt to give more hope to those who are perhaps not doing so well at their national rankings. Some players dutifully went to as many as possible to secure themselves a position, and behind each smiling face in these photos, there are also many disappointed players who thought they could close in and lock in a seat.
There are no more qualifiers planned for 2020. However, with WRC vocally still on the hunt for sponsors, that could all change. Whether players will think this was a successful push or not remains to be seen, but one of my hopes to engage players in WRC outside of the five day window of the event itself has happened.
And with events on opposite sides of the globe, WRC has come good on its boast of being the world's event!
Congratulations to all the winners! Can't wait to see you in Vienna!