RR Cooks! Filipino Lumpia
RR Cooks! is a series featuring recipes that lurk out there in the kitchens of our readers around the world, and tells a little bit about why each recipe is important or special to the person that has shared it with me. Today's recipe for Filipino Lumpia (pronounced "loomp-ia")comes from Michele Frizzell of Mahjong Central!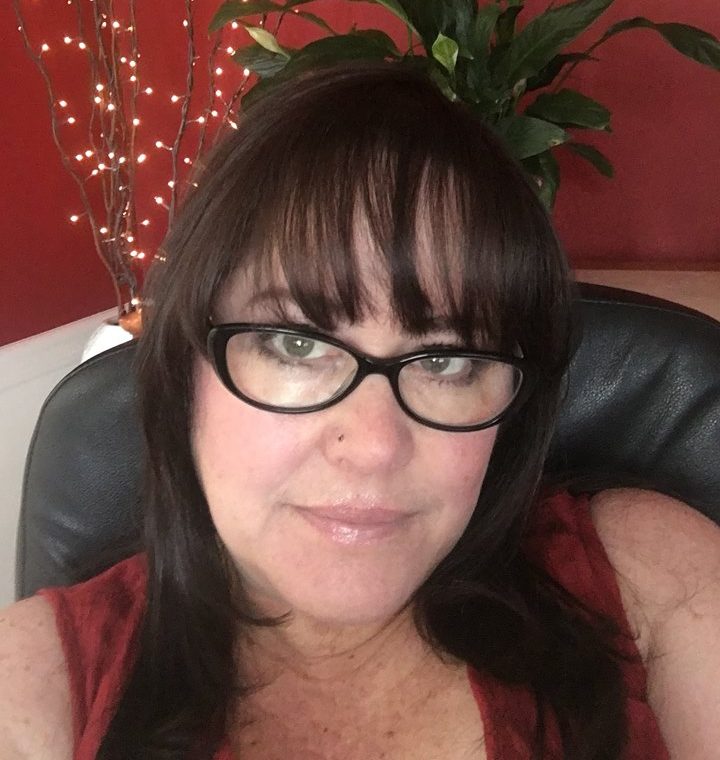 When my dad was serving in Vietnam, we lived in Portland, Oregon with my grandma and grandpa who was Filipino. We enjoyed this side dish many times at home and it was always served at the local Filipino-American Association gatherings. They take a while to make but they are well worth the time and effort. They are so tasty you don't even need sauce! Incidentally, this is the time in my life when I was introduced to mahjong as it was being played by my grandfather and his friends – bamboo and bone tiles with lots of cash money on the table!

Michele Frizzell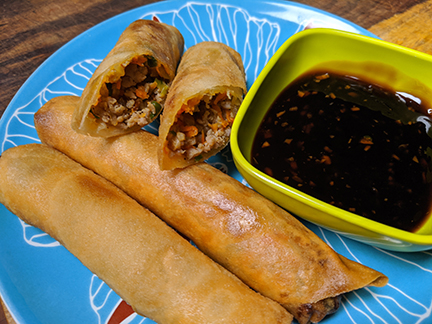 Michele's Filipino Lumpia
Ingredients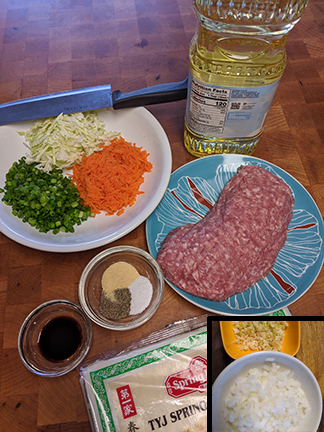 1 tablespoon vegetable oil
1 lb (1/2 kg) ground pork
2 cloves minced garlic
1/2 cup minced onion
1/2 cup minced carrots
3/4 cup chopped green onions (reserve 1/4 cup for garnish)
1/2 cup thinly sliced green cabbage
1 teaspoon ground black pepper
1 teaspoon salt
1 teaspoon garlic powder
1 teaspoon soy sauce
30 lumpia wrappers
2 cups (475 ml) vegetable oil for frying
Directions
Place a wok or large skillet over high heat then add 1 tablespoon vegetable oil.
Cook pork, stirring frequently, until no longer pink.
Remove pork from the pan to a strainer over an empty can for draining.
Drain the grease from pan leaving a thin coat for the vegetables.
Cook the garlic and onion in the same pan for 2 minutes.
Stir in the cooked pork, carrots, green onions, and cabbage until the vegetables have soften.
Season with pepper, salt, garlic powder, and soy sauce then remove from the heat and set aside until the mixture is cool enough to handle.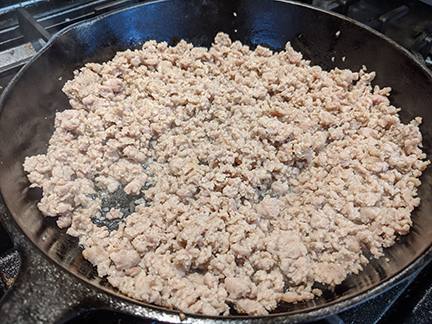 Place three heaping tablespoons of the filling diagonally near one corner of each wrapper, leaving a 1 1/2 inch space at both ends. (Note: Filling needed may vary depending on the size of your wrapper.) Fold the side along the length of the filling over the filling, tuck in both ends, then roll neatly and tightly. Moisten the other side of the wrapper with water to seal the edges.
Cover the rolls with plastic wrap to retain the moisture.
Heat a heavy skillet over medium heat then add the remaining oil to 1/2 inch depth and heat for 5 minutes.
Carefully add 4 lumpia at a time into the oil then fry for 2 minutes or until all sides are golden brown.
Drain on paper towels.
Serve immediately.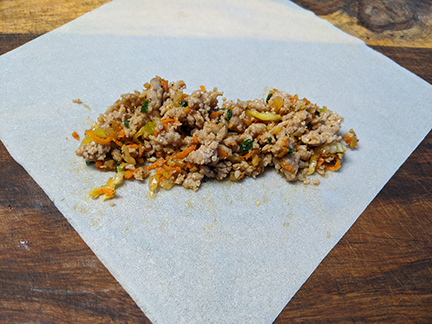 Donnie's Notes
Michele is right when she says these things are so tasty you don't need sauce. I MADE a sauce, but it wasn't necessary. (It also was not that good a sauce, so I have not included it.) The batch of lumpia I made didn't survive the day, in spite of the promise I made my mother that I'd bring her some. Sorry, mom!
The only issue I possibly had making this was selecting the wrapper. While doing my own background research on lumpia, I saw examples that range from finger size rolls to large egg rolls, with Filipino style trending toward smaller, thinner wrappers giving them a lighter and crispier texture. If those aren't available then spring roll wrappers work as well, they will just be slightly chewy. It's also what I ended up using here.
Unfortunately I selected a large spring roll wrapper, and while rolling the lumpia discovered the amount of filling made with this recipe was not going to fill 30 wrappers. I got around 12. It matters if you are going for a true Filipino style roll, and I don't want to misrepresent Michele's recipe. She says to use a pizza cutter to trim to the right size if needed, about 5″ (~13 cm) square. When I make these again (and I will!) I'll update with some appropriate photos.
Whatever you make them with will still be delicious! Thanks for reading. Comments are on if you want to share your own experience with this recipe or send a message to Michele.
Submit to RR Cooks!
I would love to receive more recipes from our readers to try out and feature on RR Cooks! There a few guidelines below.
Fresh ingredients are preferred. I'd rather not do stuff-out-of-a-can recipes. No judgement on anyone that cooks this way. It is just not what I'm going for in RR Cooks! Sometimes a canned ingredient is necessary, and that is O.K.
Ingredients should be commonly available. I plan to prepare the recipes in my own kitchen, so it can't have ingredients that can only be obtained at that one dairy by your great-grandmother's village in rural France. If it is something I can easily order online, that is O.K.
It would really showcase our diversity if the recipe held some sort of personal note about you or when you come from; barring that, I'd love to hear about the kind of dish you really get excited about!
If you have a recipe that is special to you and would like to share it with us, use our contact page to send me a message with your recipe. Don't forget to tell me why you chose it!